Have you ever seen someone well dressed and think, "I could look like that if I just had some more time to get ready." Or maybe your reasons are more along the lines of,  "I'm too busy", 'there are more important things I need to worry about", or simply "I don't care". While I can't help you with the last reason, I can fully sympathize with you on all the others.
My life has been more stressful than usual lately. Combine an impending cross country move with home buying, home selling, and a sinus infection and 'looking my best' isn't exactly at the forefront of my priorities. Some days I'm lucky just to get out of workout clothes and into jeans. Unfortunately however, your appearance still matters even when it's the last thing on your mind.
Future clients are still seeing you in the grocery store.
Your employer is remembering you by that last impression you're leaving.
People are still making judgements about your character, work ethic, etc. even if you aren't willing and ready for it.
It sucks, but you still need to make some sort of an effort to pull yourself together, even if you're busy and stressed out…and that's where the uniform comes in. If you remember nothing else about this post, remember that:
Uniforms are glorious

You need one
A uniform is essential to getting you through those particularly rough patches in life, because quite honestly, we often have better things to spend our time on than picking out clothes. At it's purest form, a uniform is a tried and true outfit that is easy and foolproof. It's the jeans and t-shirt combo you pull out because you know you look good in it and you know you'll be comfortable.
The secret to looking great when you don't have time, or simply don't feel great, is to plan ahead. Have one or more uniforms waiting in the wings for those times that you don't have the time or effort to plan an ensemble. I have two uniforms. One is for casual errand running and the other is for business.
My casual outfit is a pair of tailored, dark wash J.Crew jeans, button down Ralph Lauren oxford, and a cute pair of flats. On really unfortunate days, a hat or sunglasses may get added to the mix. It's streamlined, it's pulled together, and (most importantly) it isn't fussy. I can throw it on to run to the grocery store or go to the dog park. If I run into someone important during my errands, I don't have to hide behind aisles of cereal at the store because I still look professional and appropriate. In fact, several great client relationships have blossomed while I've been waiting in a checkout line or hanging out at the dog park. You're always making a first impression, so make sure you are making a good one!
An example of my classic oxford and jeans uniform (pic from Vineyard Vines). 
My business uniform consists of a black dress, pearls, and black heels. No matter how short on time you are, there's literally no way to mess that up. A quick up-do like a french twist solves any bad hair situations. If you choose a dress (especially a dark colored one) for your uniform, make sure you have one that you can step into (as opposed to pull over your head) to steer clear of any deodorant disasters. If I have a last minute speaking gig or have to meet a client on short notice, I know exactly what I can wear and still make that great impression. There's no time wasted in front of my closet stressing out (more than I already am) about what to wear.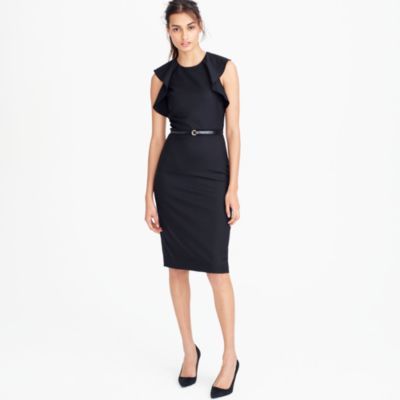 This classic black number from J.Crew doesn't even need jewelry…just a great pair of shoes and you're ready to go!
Figuring out your uniform is pretty easy. Simply go through your closet and pick out a couple outfits that always make you feel confident and powerful and that fit consistently well (as opposed to fitting only when you are in top physical condition). If it helps you to remember, take pictures of these outfits so that you can easily refer to them when time gets crunched or more important things pop up. Apps like Closet can help you keep track of your uniform and even record when you've worn it previously (so you don't end up wearing the same outfit to every client meeting). I actually have several different variations of my uniforms: oxford button downs in several colors and multiple black dresses. This way I'm never without a uniform to wear. 
Taking the extra thirty minutes to craft a couple of great uniforms is absolutely worth it. You'll never be caught hiding behind random stuff at the grocery store again (wait a minute…are these adult diapers?!?) and you'll never have to sacrifice your reputation or professionalism to time and stress.
If you're having trouble figuring out your style, or finding the right uniform for your body type, you have to check out The Ultimate #STYLE E-Course.
How do you still look your best with your pressed for time or stressed out? Do you have a favorite uniform that you always turn to? I'd love to hear your thoughts!
Cheers,
Leslie